3-D Translation of Architecture creates Autobahn Chapel in Germany by winning design proposal by schneider+schumacher from a competition in 2009. The chapel's form is a three-dimensional translation of a typical church pictogram with two pointed steeples. from a closer view.
The building appears to grow out of the hillside, via its bridged walkway leading to a covered entrance. on the interior, a domed ceiling is created by a grid shell of curving wood profiles. daylight from spires' skylights illuminate the space through the vaulted structure.
Let's have a get some important facts and fundamental approach toward Architecture creates Autobahn Chapel.
3-D Translation of Architecture creates Autobahn Chapel in Germany
From the Desk of Architect :
Architect michael schumacher describes the conceptual basis as follows: 'motorway service areas are places with an unmistakably direct message.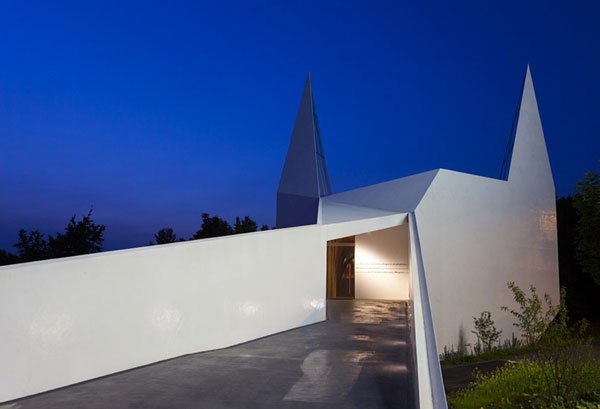 Huge signs point to what goes on here: filling-up, eating, sleeping and maybe also, for a bit of distraction, a visit to a gaming mall. they are little cities, but without the subtle layers – no spaces for quiet contemplation or prayer, no beautiful spaces.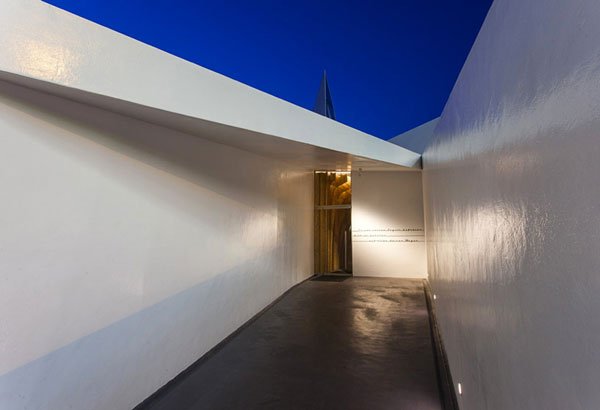 The small motorway church offers an opportunity to fulfill these fundamental needs, and provides these in a place where they are arguably most lacking.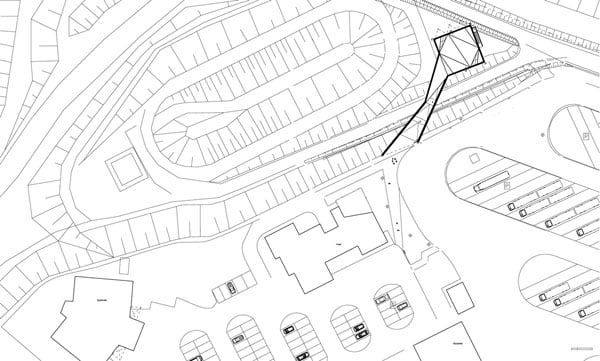 For a building to make an impact in such surroundings, it needs to talk the same unmistakably direct language (at least on the exterior).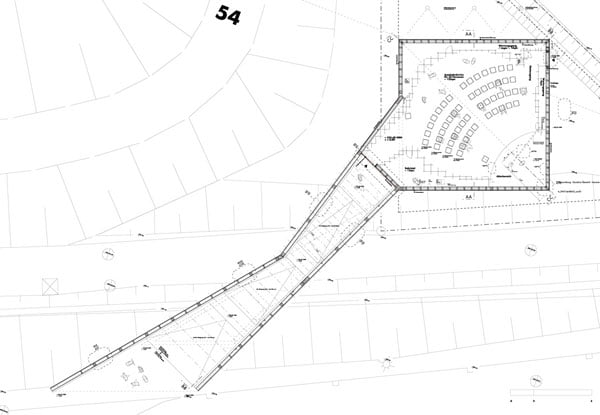 Whether approached from afar from the Dortmund direction, or from the motorway service area, the church represents a built version of the motorway church signage.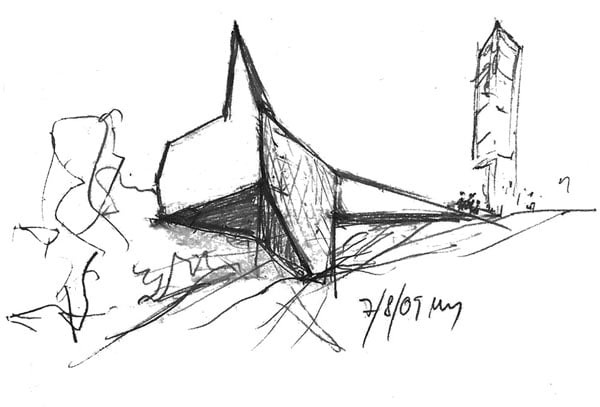 You may also like this:
Even though its exterior form is abstract, it still signals in an immediate and direct way: 'i am a church!' '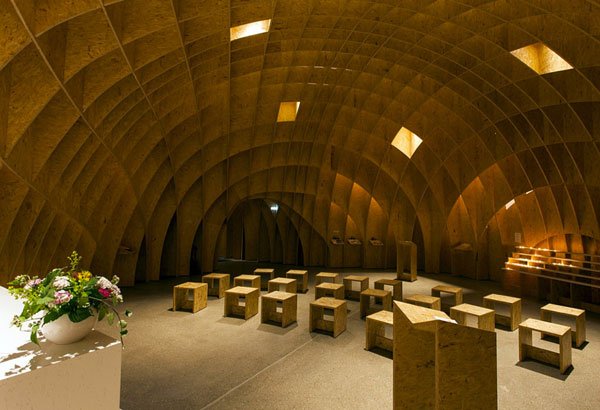 Location: wilnsdorf, germany
Procurement documentation: competition 03/2009
Construction dates: 03/2011 – 05/2013
Site area: approx. 500 sqm
Gross floor area: approx. 240 sqm
Gross volume: approx. 2.050 scm
Dimensions: chapel, approx. 14 x 14 m + access bridge
Client: autobahnkirchenverein siegerland e.V. / herr hartmut hering, frau ute pohl
Architecture: schneider+schumacher planungsgesellschaft mbH
Project architect: michael schumacher
Project manager: hans eschmann
Construction manager: kerstin högel
Team: michael schumacher, hans eschmann, kerstin högel, alexander volz, ragunath vasudevan, elmar lorey, jana heidacker
Structural engineers: b+g ingenieure bollinger und grohmann gmbH
Building services: rpb ingenieure gmbH
Surveyor: dipl.-ing. j. seelbach
Structural work (reinforced concrete): w. hundhausen bauunternehmung gmbH
Structural work (wood construction): holzbau amann gmbH
Windows: metallbau weinmann
Facadesurface coating: elacoat gmbH
Steel-staircase: ernst stahl- u. treppenbau gmbH
Flooring: obering. kaspar könig & söhne, hartmut thielmann baugeschäft
Interior wooden construction (plus furniture): schreinerei hein gmbH
Lighting: ERCO gmbH
Ventilation / floor heating: robin sohn gmbH
Electrical work: michael pitthan gmbH
Doors: metallbau weinmann, holzbau amann gmbH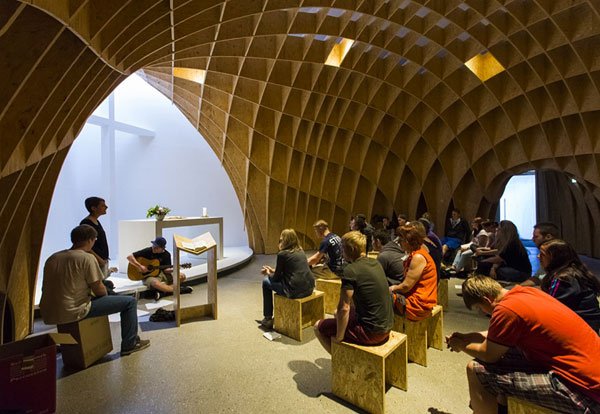 The new highway church is composed with a square nave, two spire towers, and an access bridge at the southwest corner.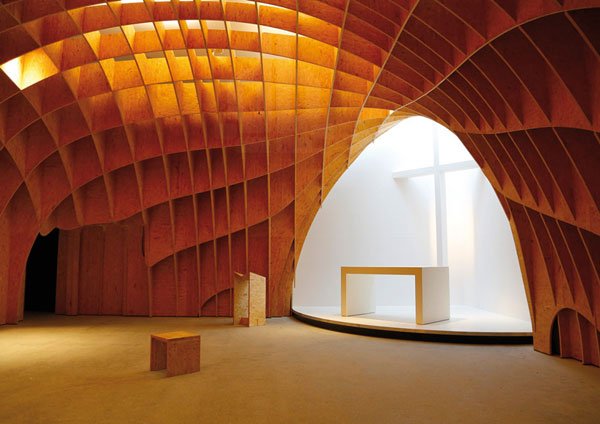 The exterior has a monolith white materiality, and takes an angular and dynamic form.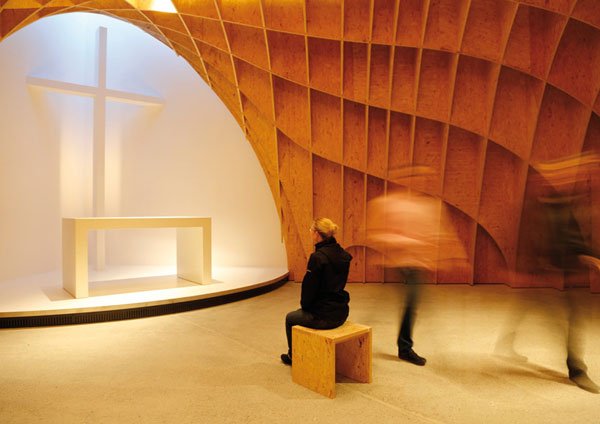 The internal space is shaped by a vaulted ceiling, which is constructed of 66 engineered lumber (oriented strand board) profiles.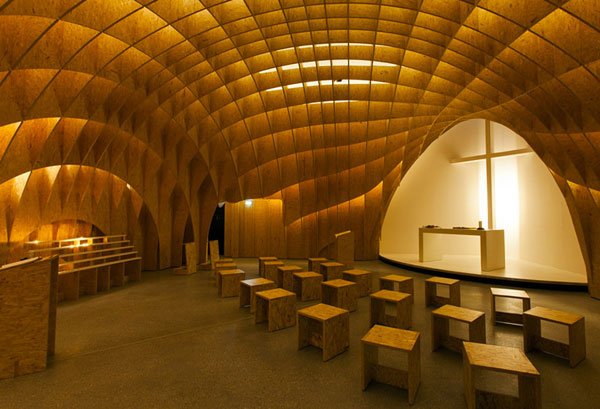 The timber ribs are slotted into one another to create a rigid and self supporting structure.