Baroque Art Museum Building project. Designed by the Japanese architect and 2013 Pritzker Prize-winner Toyo Ito. Recently completed in Via Atlixcayotl, Reserva Territorial Atlixcáyotl. Corredor Comercial Desarrollo Atlixcayotl, Puebla, Pue., Mexico. The new International Baroque art Museum is of 18,000 square meters. Length is considered as one of the most ambitious in the history of Puebla.
Baroque Art Museum Architecture of Mexico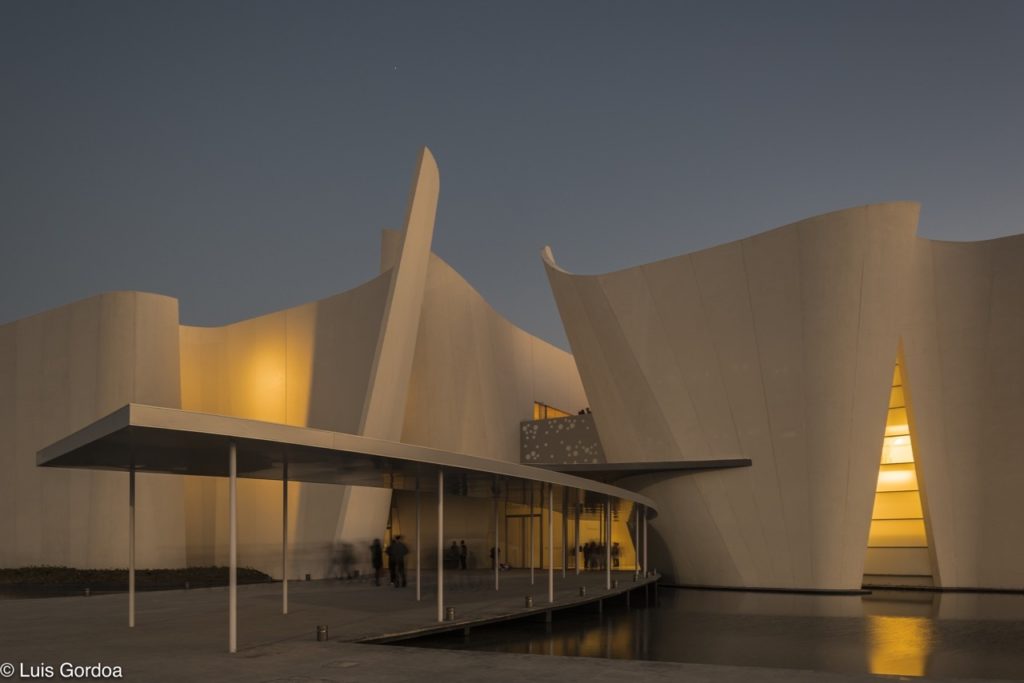 According to Mexican media, The cost of the museum dedicated to Baroque art from the 15th to the 18th century. Raised hackles according to a report in El Proceso. Academics have criticized the project.
Because they said, it would not house a true collection of Baroque art. Which will remain in Mexico's historic architecture and churches. Instead, visitors would experience Baroque painting and architecture through multimedia digital displays.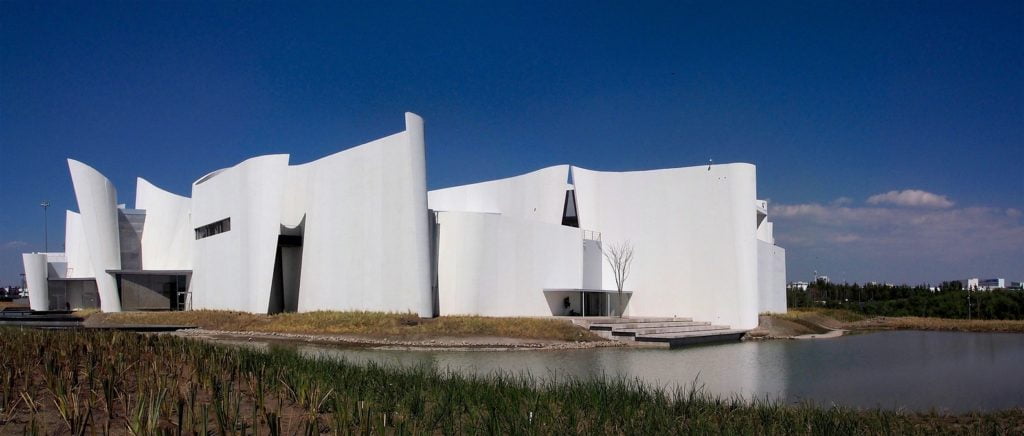 Fact File of Baroque Art Museum.
Architects : Toyo Ito.
Location : Via Atlixcayotl, Reserva Territorial Atlixcáyotl, Corredor Comercial Desarrollo Atlixcayotl, Puebla, Pue., Mexico.
Architectural Project : Toyo Ito & Associates, Architects.
Local Architect : Federico Bautista Alonso.
Area : 18149.0 sqm.
Project Year : 2016
Photographs : Luis Gordoa.
Promoter : The State of Puebla, Governor Rafael Moreno Valle Rosas.
Concessioner : Constructores del Museo Barroco S.A. de C.V.
Contractor : Grupo Hermes.
Museography : Miguel Ángel Fernández Villar.
International link : Guillermo Eguiarte Bendimez.
Coordination and Design Development : Toyo Ito & Associates. Architects and Estudio Arquitectura S.A. de C.V.
Team – Toyo Ito & Associates, Architects  : Toyo Ito, Yoko Izumi, Takeo Higashi. Shuichi Kobari, Makoto Fukuda, Nils Becker, Takayuki Ohara Martínez, Kota Tamaki. Yuta Martínez Ono, Adrià Clapés i Nicolau, Carlos González Acedo, Mariana Ramírez Escoto. Luis Alberto Hidalgo Miranda
Team – Estudio Arquitectura S A de C V  : Federico Bautista Alonso. Alejandro Bribiesca Ortega, Miriam Carrada Legaria, Armando Mauleón Bonilla. Daniel Rosas Ortiz, Erika Carral González, Gardi Albrecht Junghanns
Structural Engineers : SAPS (Mutsuro Sasaki, Toshiaki Kimura), SC3 (Ing. Ernesto Lira.)
Mechanical Engineers : AKF de México.
Lighting Design : Artec 3 (Maurici Ginés, Mariel Fuentes.)
Signage and Corporate Image : Identity Design S.L. (Tomo Iida.)
Furniture : Fujie Kazuko Atelier
Natural Lighting Study : Bioàmbit, enginyeria bioclimàtica (Carles Guillén Amigó, Ivan Pérez Carretero)
Landscape Architecture : Tada Arquitectos (Antonio Cesar López Willars).
Know more about Baroque Art at here – Baroque.
Location History of Baroque Art Museum.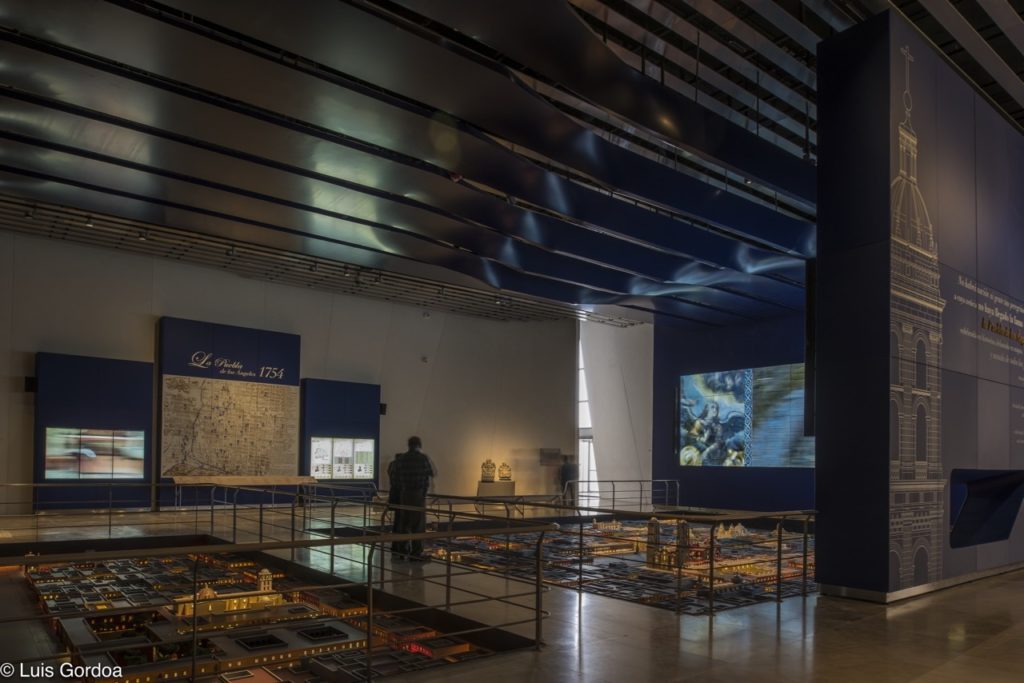 The art museum plot of five hectares is located approximately seven kilometers. From the city center of Puebla. At the intersection of the "Boulevard de Atlixcayotl" and the "Avenida de las Torres".
But Currently access to the museum site is either by car, by a public transport bus system or by a bike path. Those are circuit connecting the Intl. Art museum with other parks and public spaces in the city.
Museum Building Parking is organize on 2 levels on the eastern side of the Museum. About 440 boxes, parking for 4 buses, 42 motorcycles and 50 bicycles.
Design Brief of Art Museum Building
A large square has been design which receives the incoming visitors. It includes a passenger drop-off point for buses and cars, benches, information banners.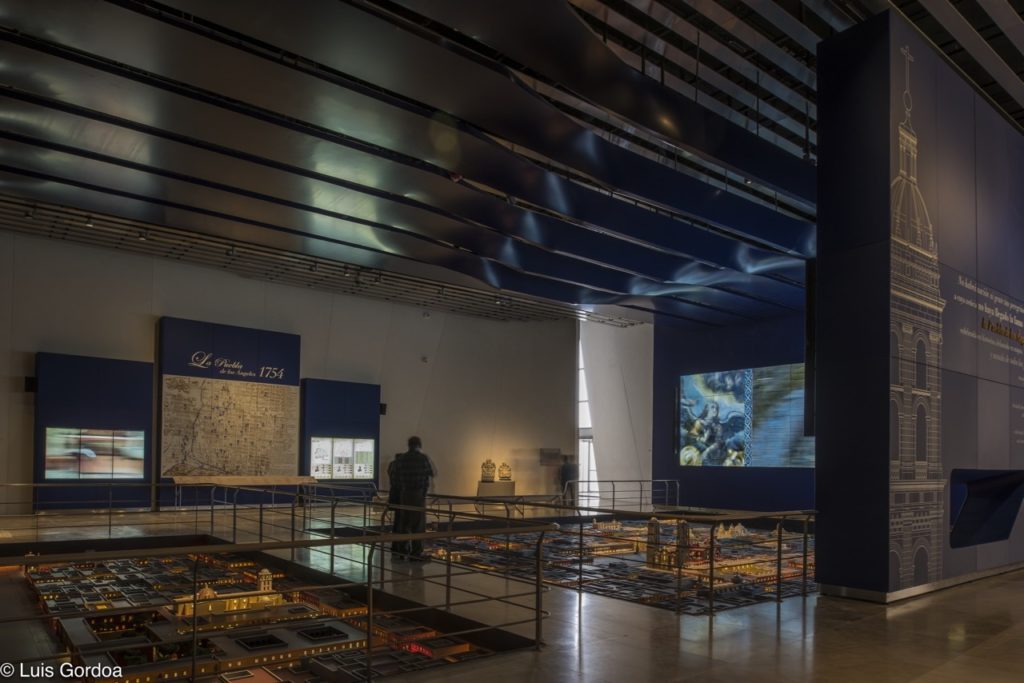 A large stepping bench for giving explanations to visiting groups and an entrance canopy. Which welcomes and protects the visitors waiting to enter the museum.
This facade will also receive night time projections of images related to current exhibitions. Which also illuminate the museum and make it stand out from a distance.
Art Museum Building Planning Strategy
The museum building height 19.52 m max. is elevated 2 m from original ground. It is easy visible from the two main roads, acting as a beacon. The MIB has two levels above ground.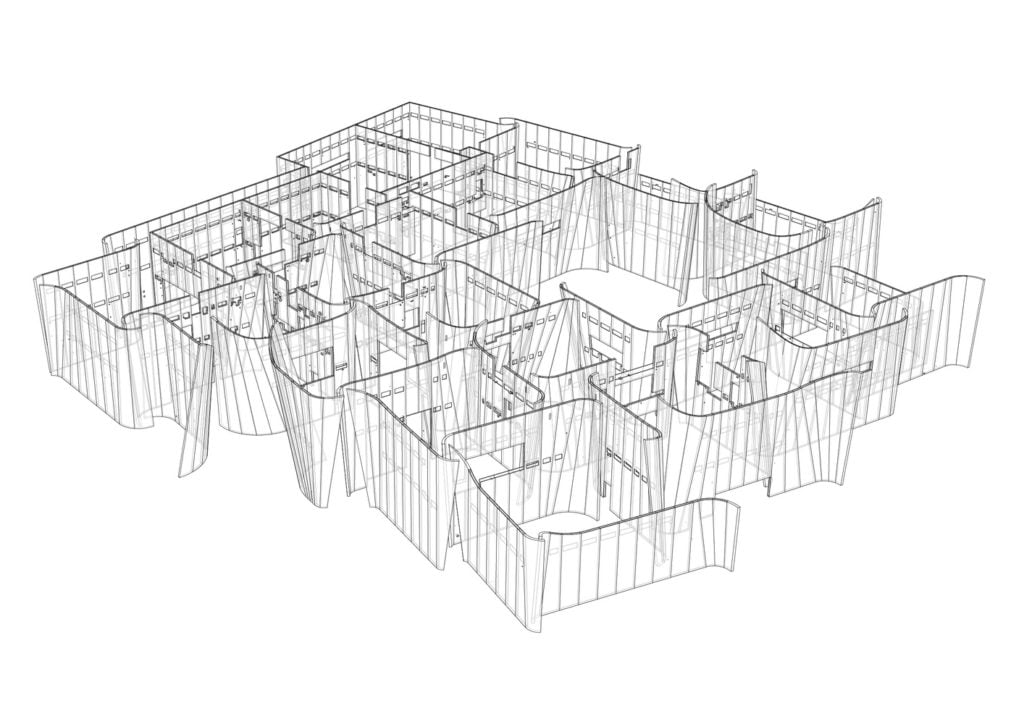 The total floor area is approximately 18,149 m2,
9,855 m² correspond to the lower floor (ground floor),
7,316 m² to the upper floor and
978 m2 to the mezzanine level.
International Baroque Art Museum Building Structure
As part of the structural strategy, the museum is a single rigid volume. giving the building earthquake resistant qualities.
The foundation transmits vertical loads on the ground filler compacted soils. The foundation was build as a strip footing. with an adjusted depth according to the requirements of outdoor spaces.
The structure consists of concrete walls and slabs. that have developed in collaboration with the Mexican company DANSTEK. Specializes in precast concrete.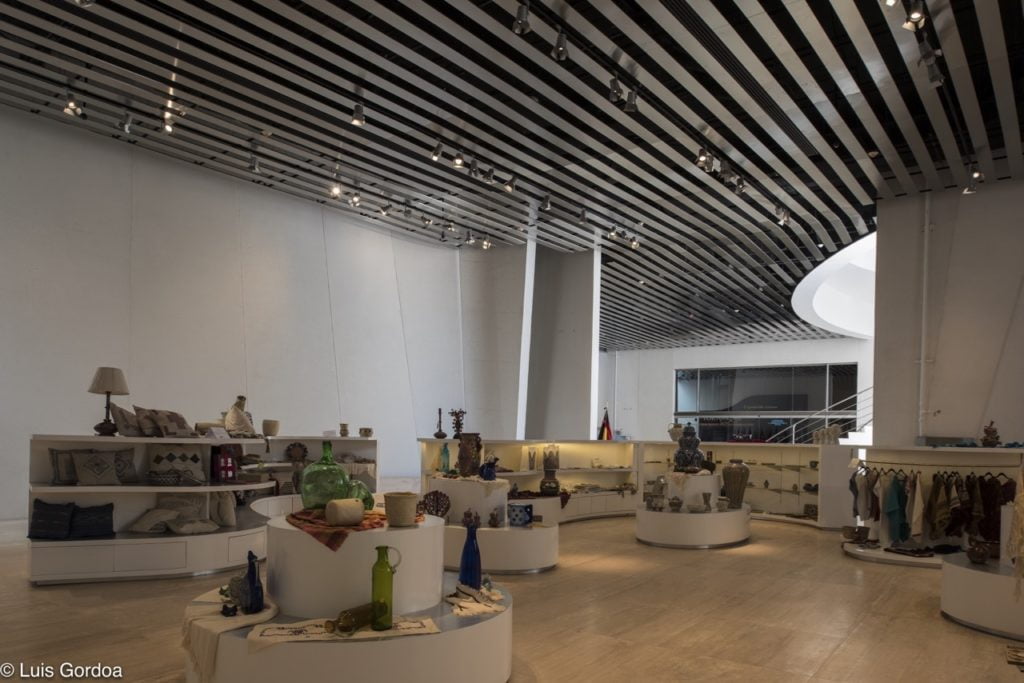 The structure composed of precast walls and slabs were also developed with DANSTEK.
The walls are precast on the exterior and cast in-situ on the interior. The precast part, consisting of two panels of 65 mm white concrete joined as a sandwich panel. also acts as lost form-work. whilst simultaneously controlling the final finish.
The inside, cast on site with grey concrete, merge the pieces. Together with the reinforcement, producing a monolithic wall. The exposed concrete has a bush-hammered texture. making it easy to rectify any defects to the finishes on site.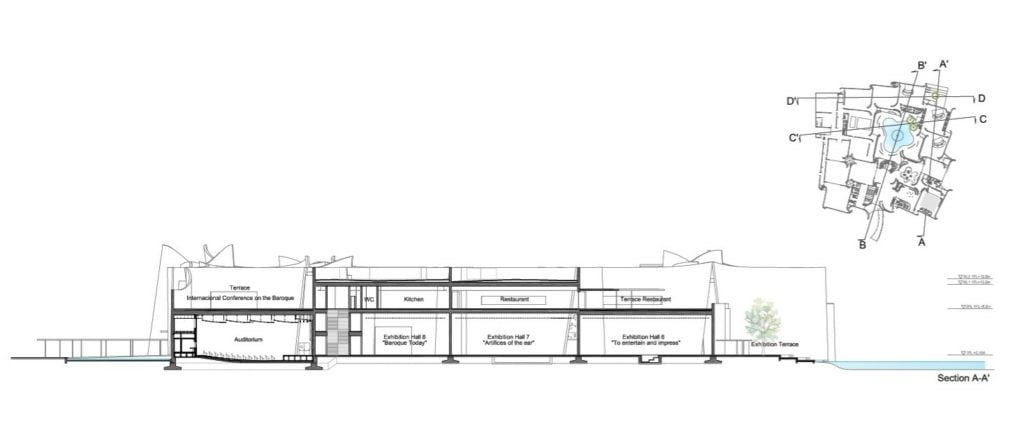 The walls function as structural load-bearing walls with a total thickness of 36 cm. (Including the 2 precast concrete elements). The slab is a 70 cm deep lightweight composite with recycled hollow polyethylene (PET) spheres. And semi-prefabricated precast slabs for easy and fast assembly.
Space Planning in Art Museum Design
Exhibition spaces are mainly located on the lower floor. Upon entering the building one will reach the main hall. There you can immediately access the museum exhibition areas. the auditorium as well as the upper level.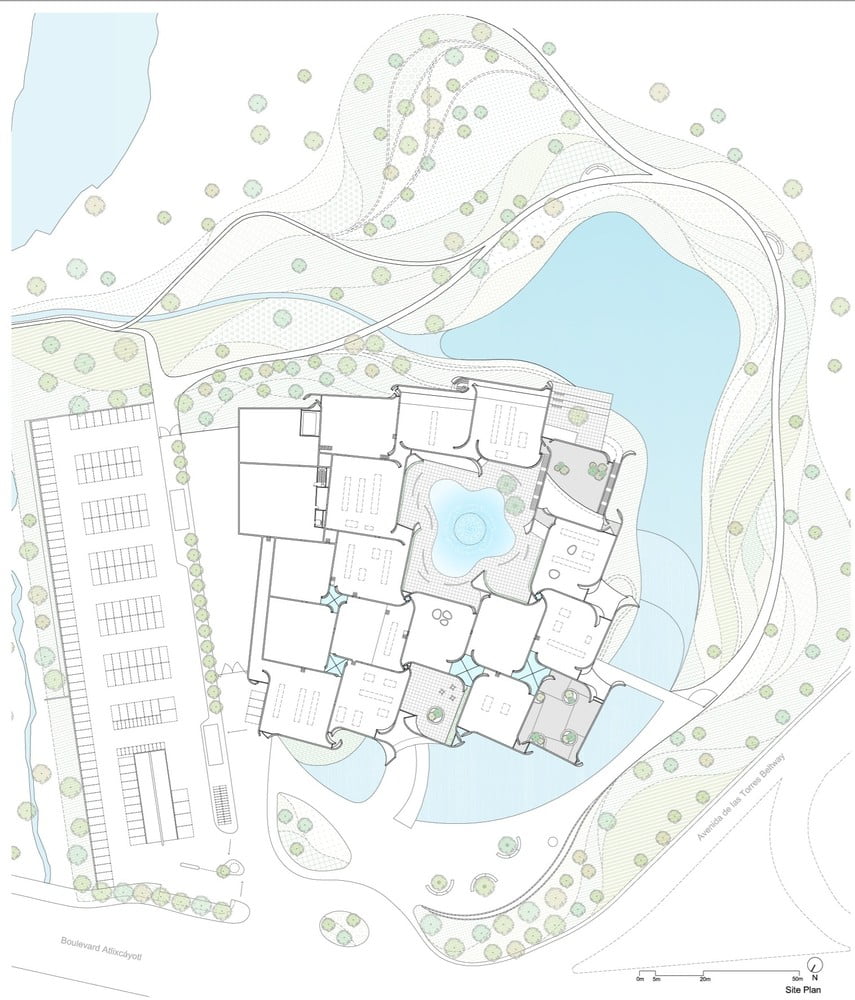 The ticket office, cloakroom, museum shop. And information centre are also located in the main hall. In this area one can also enjoy several large benches designed by Kazuko Fujie Atelier. which were developed in collaboration with local textile artisans in Hueyapan, Puebla.
This space communicates with the exhibition hall. From which you can access both the permanent and temporary exhibitions.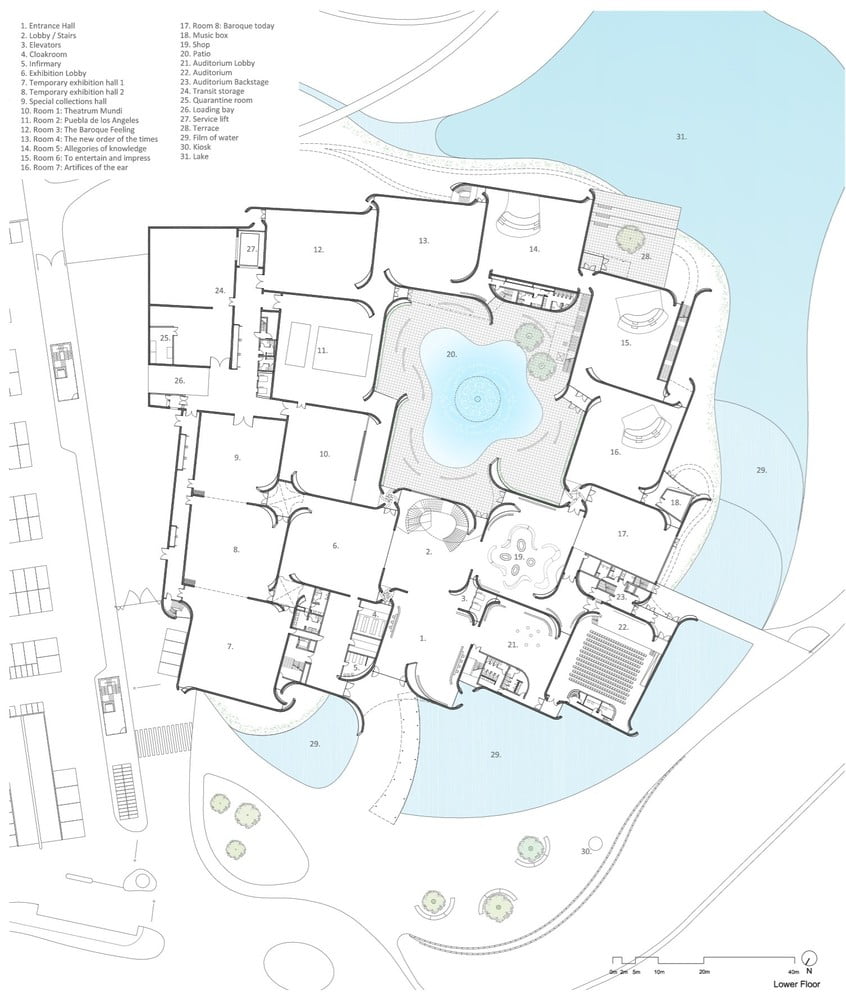 The permanent exhibition includes a visit to eight exhibition halls, each with a different theme that provides a broad view of the various appearances of the Baroque.
The temporary exhibition is in three 400 m2 adjacent rooms, which can be used as individual halls. Flexibly merged into a large hall of 1,200 m2 or configured into a medium sized 800 m2 hall with one small 400 m2 hall.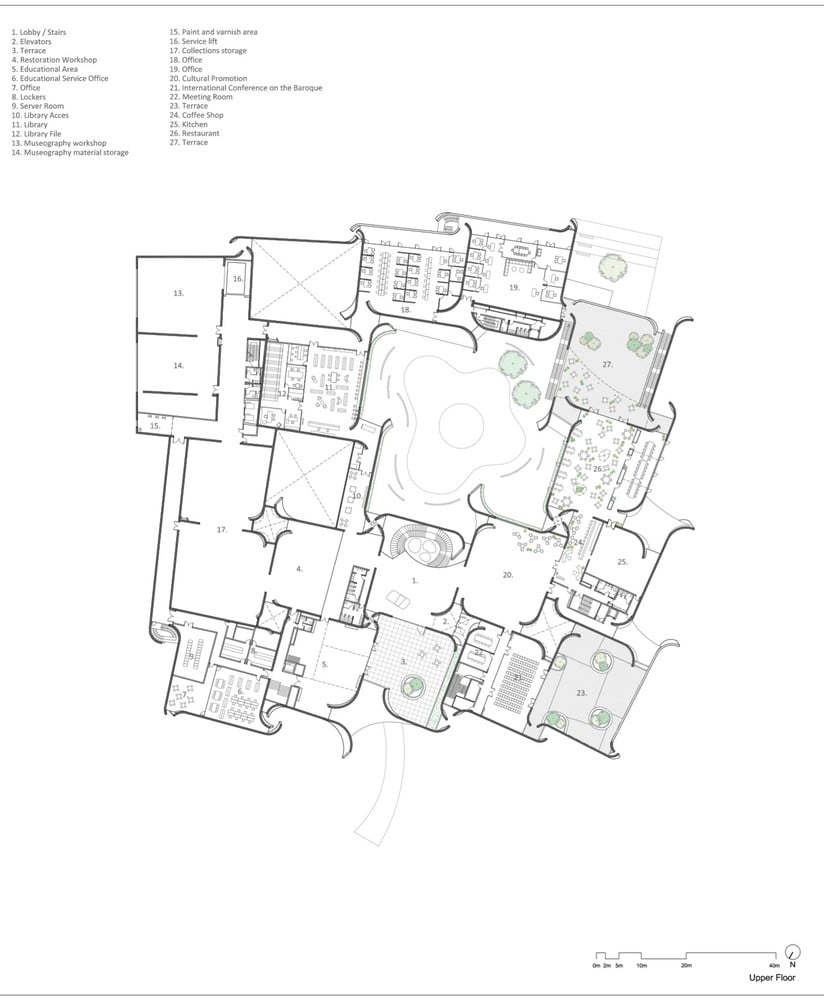 The Museum was carefully designed to meet international standards. Special requirements documented in the "Facility Report". In order to guarantee safety to the works on loan from other institutions or Baroque museums.
Moreover, the Baroque art museum wishes to explore innovative and interactive means. To exhibit Baroque art works from a past era using new technology.