You have surely invested your hard-earned money in the furniture and obviously wish to last it longer. Furniture can be an expensive investment. If you want your wooden furniture to last longer and avoid repairs, a little extra care of your furniture will do the needful. The most common type of furniture is wood. The wooden part along with aesthetic upholstery should be maintained to help it last longer.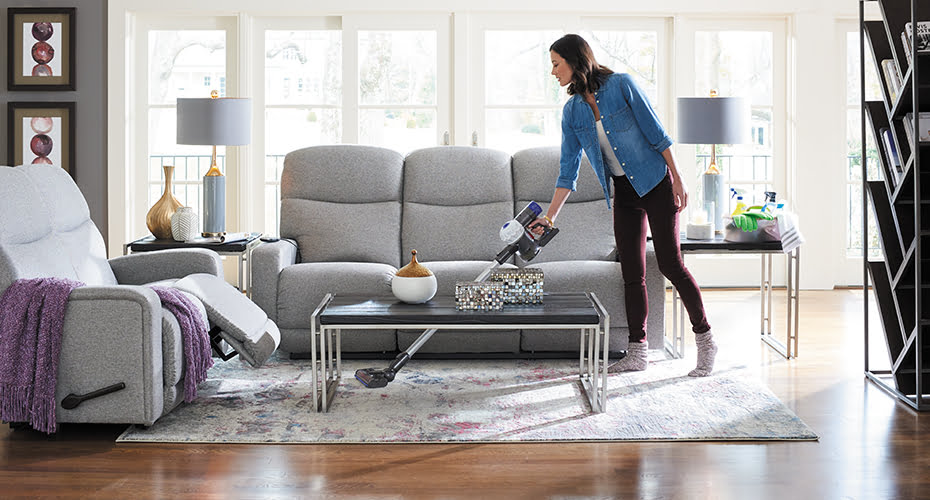 You might have your favorite furniture that is close to your heart. It might be an antique piece from an ancestor's time, a bookshelf of vintage classic look or a nightstand that was gifted to you. Whatever may be the piece, you want it to be in a good condition. With a little care and attention, your wooden furniture can help avoid repairs and looks at it best for years.
To protect your furniture from repairs and damage, follow the following cleaning and care tips by Furniture Mama:
Clean with soap and water:
A damp cloth and a mild dish soap is all you need to clean your furniture. After cleaning, rinse it with mild soap followed by a damp cloth and later dry the surface with a clean dry cloth. Ammonia can damage the furniture, so avoid using soaps that contain ammonia. Avoid using excess water while cleaning the furniture.
Polish furniture after cleaning:
Everytime you clean your wooden furniture, at times polish might wear off. Polishing the furniture will help make it look elegant, clean and protect the surface. Make sure you use furniture polish that does not contain a high amount of alcohol. As alcohol can damage the furniture.
Dust your furniture:
This is the most basic and simple way of taking care of your furniture. Use a soft, dry, lint-free cloth or brush to dust the furniture so that it absorbs the dust. Frequent dusting prevents accumulation of dust and unwanted grit on the furnishes.
Use coasters for glasses:
To prevent glass rings on the table, always use coasters with felt or cork bottoms. Never let water stand on your wooden furniture.
Use trivets for hot dishes:
To protect your furniture from hot serving dishes, make sure to use trivet, oven mitts or fiber tablecloth. Placing hot dishes on the wooden furniture can result in burning marks and unwanted stains.
Keep furniture out of direct sunlight:
Sunlight may dry out wooden furniture and fade wooden surfaces. The heat from the sun can melt finishes and create hard-to-repair cracks. Excessive sunlight can affect the furniture as it loses moisture that plays an important role in preserving it. It may lose its shine and luster and become to fade.
Protect furniture from pets or children:
Our lovable furry pets can accidentally scratch and damage furniture. To prevent it from damage, cover the wooden surfaces with a fiber cloth, chair cover or a protective pad. Activities such as scratching, using sharp objects can cause considerable damage to the furniture.
Do not place coffee makers under upper cabinets:
We are saying this because heat from the coffee makers can damage the finish of wooden cabinets. You can place coffee makers on the open area or kitchen island.
Tips to take care of Upholstery:
This is another type of furniture that needs care. It is made of fabric that adds so much warmth and comfort. They also add texture, pattern, color, and personality to the furniture such as cushions and pillows.
Simple tips to take care of upholstery:
Vacuuming:
If you have this kind of furniture, try to vacuum it at least weekly. This will help avoid dust and dirt that could make your furniture look dull and old.
Reorganize frequently:
A fabric may be stained if used frequently. So it is advisable to swap and rearrange the upholstery regularly. This will ensure that it is used not more than often and help avoid any wear and tear.
Arm covers:
This is another way to protect from higher levels of abrasion or dirt. The seat and fabric are made of the same material so it's important to clean them frequently.
Slipcovers:
Slipcovers are seat covers that are reusable. They can help avoid furniture from sweat, oils and unwanted stains. Once they get dirty you just have to wash them. You can place it where the furniture is not in use.
Tips to take care of your leather furniture:
As we all know, leather furniture is the most expensive in the market. If taken care then it may last for a longer period of time. Also, it is easy to maintain.
Cleaning:
Cleaning is the basic step towards a maintenance routine. To keep it clean, just wipe the leather furniture with a piece of dry cloth. You can use mild soap to clean the stains or spots and ensure to rinse it first. Avoid using any harsh detergents, abrasive cleaners or any other chemical solutions as it may spoil it.
Dusting:
This is another way to keep it clean. Daily dusting will ensure that dust or dirt does not accumulate on the furniture.
Vacuuming:
The coated leather furniture can be vacuumed to remove the surface soils.
Tips to take care of glass furniture:
Glass is combined with other materials such as metal, wood, fabric, and leather to make the piece look elegant and aesthetic. It is delicate to handle glass furniture but easiest to take care of. Another way to maintain is to avoid stains on the glass to make it look beautiful. Use glass cleaning detergents for ever-lasting shine. 
Too much moisture on the wooden furniture can lead to mildew, and too much dryness can cause your furniture with weak joints and to lose its natural luster. Make all these little changes to make your furniture look beautiful year by year. 
Follow these tips to help prevent moisture or dryness from damaging your furniture:
Avoid placing wooden furniture in steamy bathrooms or laundry areas. 
Never allow moisture to be trapped between glass and a wooden surface. Make sure the surface is completely dry. 
Maintain a consistent temperature at your home. Changes in the temperature can affect your furniture. 
Dry areas can cause furniture to shrink, split or get brittle, so don't let your homes get too dry. 
Protect wooden pieces with direct contact of water, you can place table tops, coasters, trivets or natural fiber cloth to protect it from hot and wet surfaces. 
In spite, of taking so much care of the furniture, accidents may happen. And when your favorite piece of furniture is scratched or gouged, it's time to call an expert. Furniture mama can help you repair your furniture on-site and on schedule.