Amazing Architecture of International Airport Terminal 2 Mumbai, India. Created and executed by SOM. SOM is designing the new Amazing Architecture of International Airport Terminal 2 Mumbai. India's Chhatrapati Shivaji International Airport (CSIA), one of India's busiest airports, Mumbai.
International Airport Pvt. Ltd. (MIAL), a joint venture between the GVK. Led consortium and Airport Authority of India. To implementing a master plan to build an integrated terminal with a vision and framework to modernize CSIA.
Amazing Architecture of International Airport Terminal 2 Mumbai, India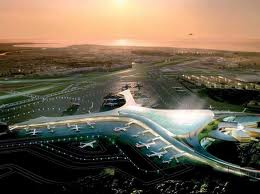 Chhatrapati Shivaji International Airport Terminal 2 Mumbai. India will be as unique as our land, our heritage. The distinctly proud Indian design of this new terminal will set new international standards. across every aspect such as architecture, planning, technology, functionality and service.
An experience that will be efficient, yet warm. An experience that will whisper, you are now in India. International airport terminal 2 Mumbai will deliver delight every moment you spend here.
By being an experience that is at par with the best in the world.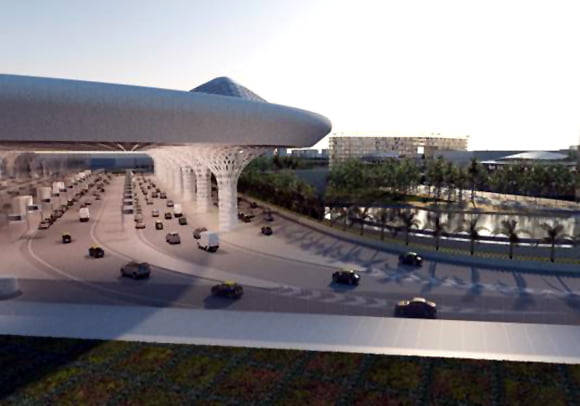 International Airport Terminal 2 Mumbai airport Project Facts:
Project Completion Year: 2014
Design Completion Year: 2010
Site Area: 105 hectares
Project Area: 450,000 m2
Number of Stories: 4
Building Height: 45 mtrs.
Main feature:
A single roof will soar more than 40 meters above floor level. Glass curtain walls and multi-level light wells will provide ample natural light, while high-performance glazing and rooftop greenery will help reduce solar heat gain. The terminal is cross- shaped in plan to facilitate the quick and organized movement of planes and passengers.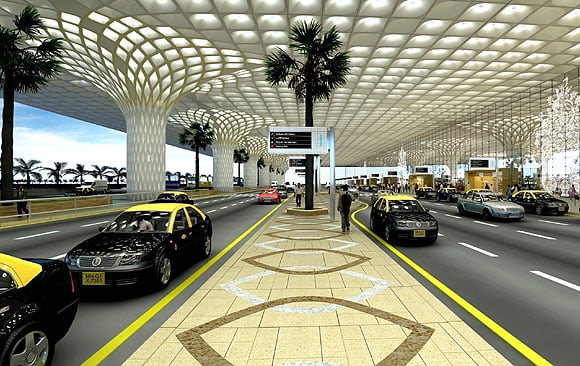 It will also have India's largest airport nursery comprising 77,000 plants and over 80 different types of plant species as well as the country's largest public art programmer title 'Jaya He'. It will be a 3-km long , three storey-high space housing about 7,000 works of art from in and around India, making it the country's biggest such project in terms of size.
Silent feature:
Total area of 439,203 sq. mts./40 million passengers capacity/Over 21,000 sq. mts of retail space/Over 5000 sq. mts of landscape areas/188 check-in counters/60 departure immigration counters/76 arrival immigration counters/104 Security check positions/10 baggage carousels/25 fixed link bridges/52 passenger boarding bridges/41 Travelators/47 Escalators/73 Elevators/101 Toilets/A 6 lane elevated express way leading to the Terminal/Multi-level car park for 5000 cars.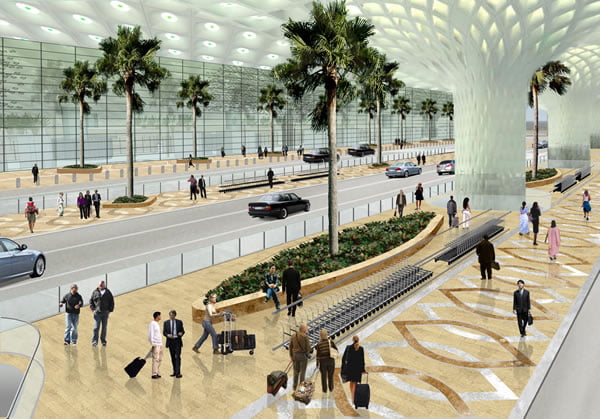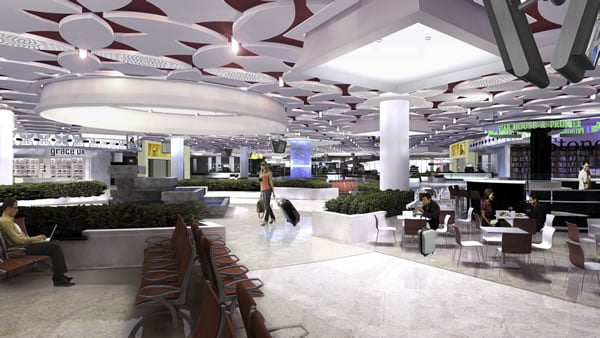 Green roofs will also reduce energy use, diminishing heat loads and the "heat island effect," managing storm water run-off, filtering air and rainwater pollutants, and improving acoustical performance.
Know more about Airport Planning:
Indulge more details on Next Page!!
comments (2)