Best Examples of Mid Century Modern Architecture of American Homes. A mid century modern house respectfully updated in best of their era. But here we see some of the Gems of mid century modern architecture. These are the best creation of mid century modern architects likes of Ludwig Mies van der Rohe. Frank Lloyd Wright, Eero Saarinen and Marcel Breuer are still stand across America.
Showing off the simplicity, clean lines and extensive use of glass the style of mid century modern architecture characteristics are known for. These Mid Century Modern Classic American homes are really an icons of mid-century modern design. Many mid century modern homes are so perfectly preserved. Actually mid century modern house are become actual museum exhibits. While others mid century modern floor plans have been well-loved. And lived in over the decades or restored after falling into ruin.
Mid Century Modern Architecture of American Homes.
These are the best selected examples of mid century modern homes. These are represent some of the most famous mid century modern design elements in the country. As well as a few hidden gems of mid century modern architects. Let's start best examples of American mid century modern interior and design.
Farnsworth House by Mies van der Rohe, Plano, Illinois (1951).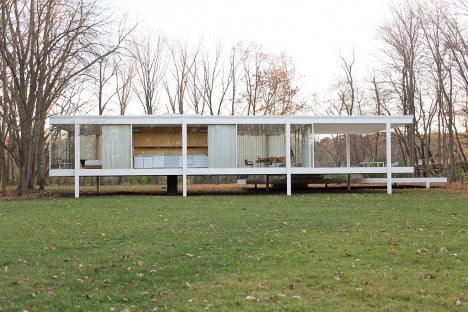 Word Famous mid century modern architect and designer Mies van der Rohe. He is create the most beautiful example of a glass midcentury house for Dr. Edith Farnsworth. As a place to play violin, translate poetry and enjoy the landscape on the edge of the Fox River.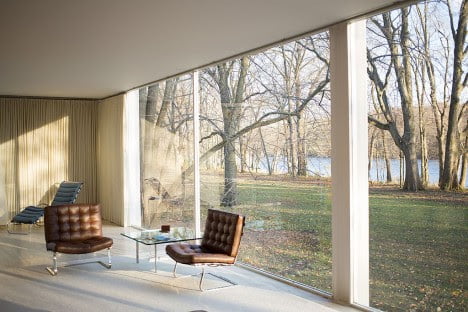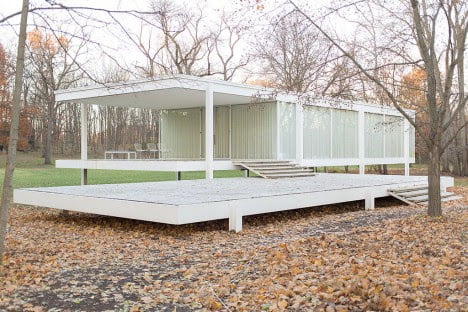 This mid century modern house is about 1500 square feet. The glass house features floor-to-ceiling glass with exposed steel structural members in white. Elevating it 5.3 feet above the floodplain didn't prevent it from being inundated after Hurricane Ike in 2008.
But most of the home's original mid-century furniture was saved. and it re-opened to visitors by 2009.
Fallingwater by Frank Lloyd Wright, Mill Run, Pennsylvania (1935).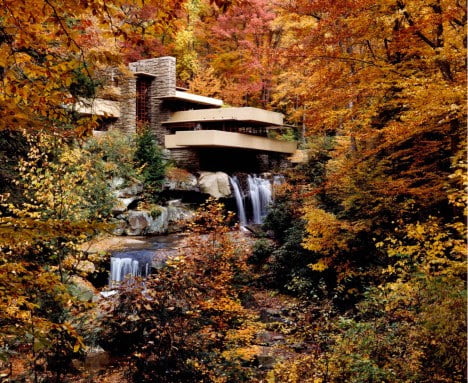 The most famous creation of America's most well-known mid century modern architect. Fallingwater (or the Kaufmann Residence) is also one of the nation's most-visited homes.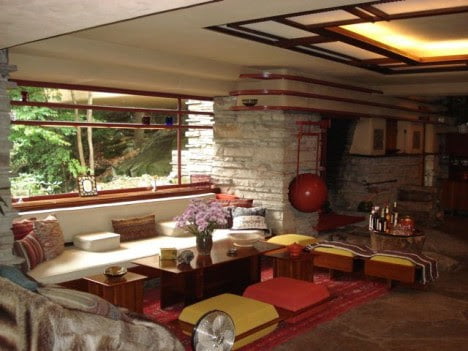 Fallingwater is build right on top of a series of cascading waterfalls on Bear Run in the Allegheny Mountains. Which might be a beautiful choice stylistically. But led to a series of architectural challenges and some extensive mold problems.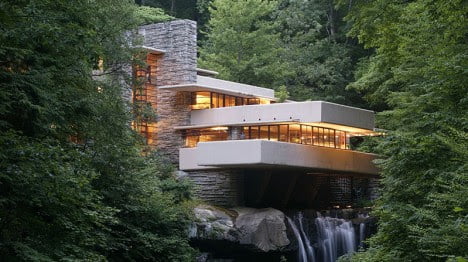 The fact that the location on the bank of the river was not large enough to support the foundation. Of a typical Wright house is what prompted the cantilevered design. The original owners used it as a weekend home until 1963. When it donate to the Western Pennsylvania Conservancy. And it's been open to the public as a museum since 1964.
Eames House by Charles and Ray Eames, Los Angeles, California (1949)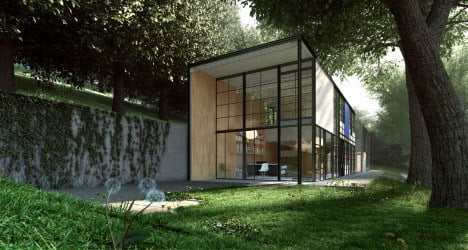 One of about two dozen homes built as part of the Case Study House Program. An experimental mid century modern architecture project sponsored by Arts & Architecture Magazine after World War II.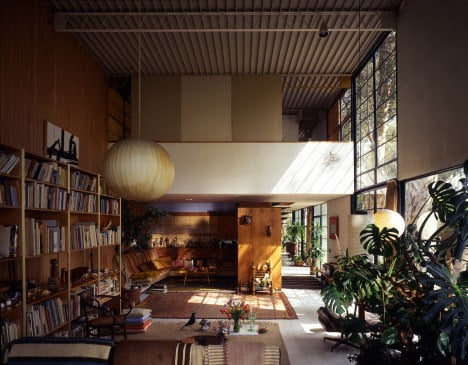 The avant-garde Eames House resembles a Mondrian painting with its panels of white, blue and red separated by stark black beams.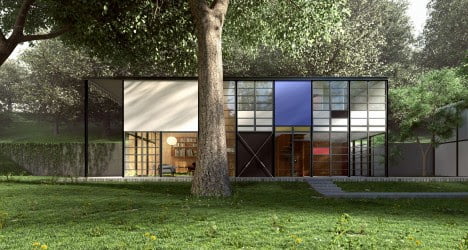 While many iconic midcentury modern houses have been preserved as they were originally decorate. The Eames House has a thoroughly lived-in feel because it has actually functioned as a comfortable and functional home for decades rather than a museum exhibit.
It consists of a main residence and studio separated by a courtyard.
Hooper House II by Marcel Breuer, Baltimore, Maryland (1959)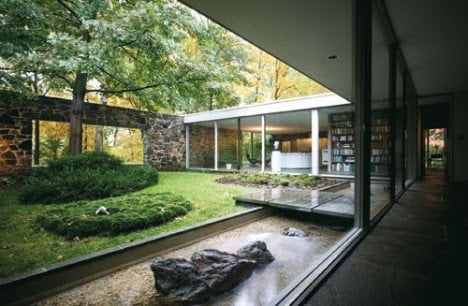 Beautiful streamlined mid century furniture designs as well as some of America's most amazing Brutalist structures. Marcel Breuer showed an unusual restraint in designing the simple Hooper House II for philanthropist Edith Hooper.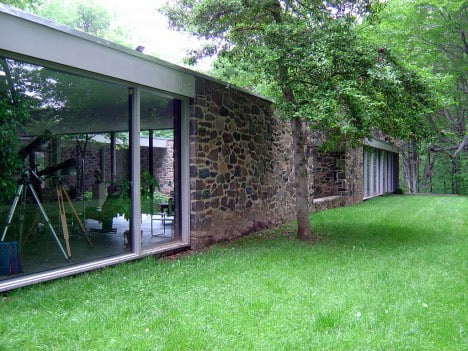 Two separate wings of the classic American home. One containing the common spaces and the other the bedrooms are connected by a glazed passageway to form a U-shape. Large segments of glass offer views of the courtyard as well as Lake Roland to the east. Broken up by long walls of Maryland fieldstone.
Stahl House, Los Angeles, California (1959)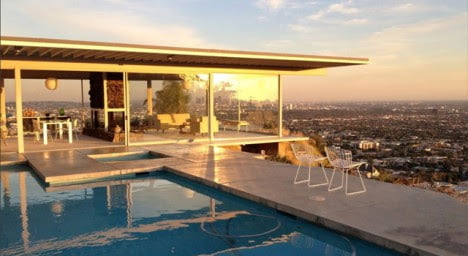 The Stahl Residence is certainly one of the city's most iconic, cantilevering out of the Hollywood Hills to gaze upon the urban skyline, and it's magnificent at night.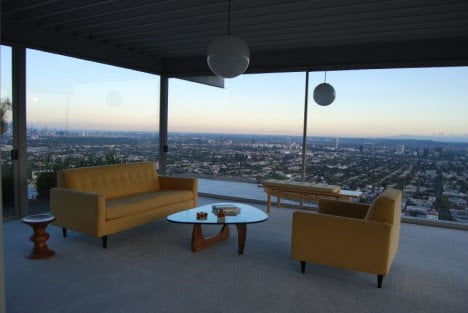 The glass and steel volume of the mid century architecture projects the common areas outward while maintaining privacy for the bedrooms in a separate wing.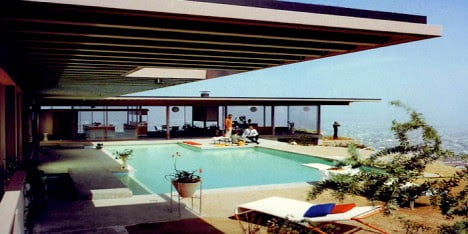 The swimming pool serves as an interstitial space between the two. The house serves as one big lookout taking in panoramic views of Los Angeles.
So, Wingers – These are the best some of the mid century modern architecture and designs by mid century architects. They have their particular working styles in mid century modern design principles. But overall these are best mid century modern homes of all. Have a threads on it, share with us.