Lonavala-Khandala is one of the popular hill stations nearby Mumbai in Maharashtra, Also, Modern Villa in Lonavala. Today, we are seeing an ultra modern architecture of two bedroom villa in Lonavala. This is a modern villa design by NUDES architecture and design studio.
Ships like the design of a modern villa in Lonavala at first sight, look like. That is flank by picturesque hillside terrain and a natural water catchment area.
Modern Architecture of Luxury Private Villa in Lonavala.
The modern villa architecture design aims to prioritize open, outward-facing elements over more enclosed, indoor spaces. According to the studio, the unique ultra modern villa design is intend to 'transport the users and sail through stunning landscapes'.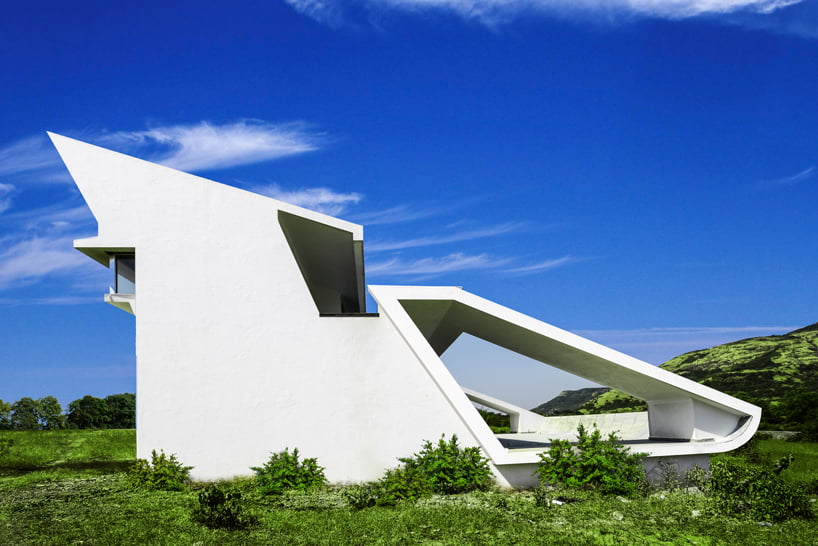 Design Concept of Modern Villa in Lonavala.
This is a design of villas in Lonavala for a weekend getaway; the 'villa dodia' is defined by its relationship to the exterior.
This is modern villa designs and floor plans such a way that three separate terrace areas, two of which are oriented towards the nearby hills.
The overall frame of the 2 bhk villa in Lonavala is 'pinched' — its north facing façade travels upwards to a sharp point. While toward the south the architecture 'zooms out' to accommodate the impressive landscape.
Modern villa designs plan.
It is on this southern face that architect NUDES has constructed a rolling concrete deck terrace. It is a  seamless extension of the modern villa house design.
The Deck is the main element of design in this futuristic patio functions as a curved addendum to the living space. This is an inviting villa in Lonavala with deck to venture outside.
The tail of the terrace rolls upwards, joining two supporting arms that extend out from the main volume. The result is a cohesive concrete shell that blurs the line between interior and exterior environments.
A 'ship-like' modern villa exterior design that looks as much at home in space as on the high seas.
Fact File of Luxury Villa in Lonavala.
Project name: 'the deck' – villa dodia.
Typology: weekend home
Location: Lonavala, Maharashtra, India.
Area: total built-up 4230/- sqft.
Architect: nudes
Founder & principal: Nuru Karim
Photography by: Sameer Chawla
Completion year: 2016
Modern Villa Interior Design:
Inside the ultra-modern villa in Lonavala, a monochrome palette serves to further the space-opera aesthetic.
That is reducing columns to a minimum, the living, dining and sleeping areas are accessed and overlap through an aerated and open plan.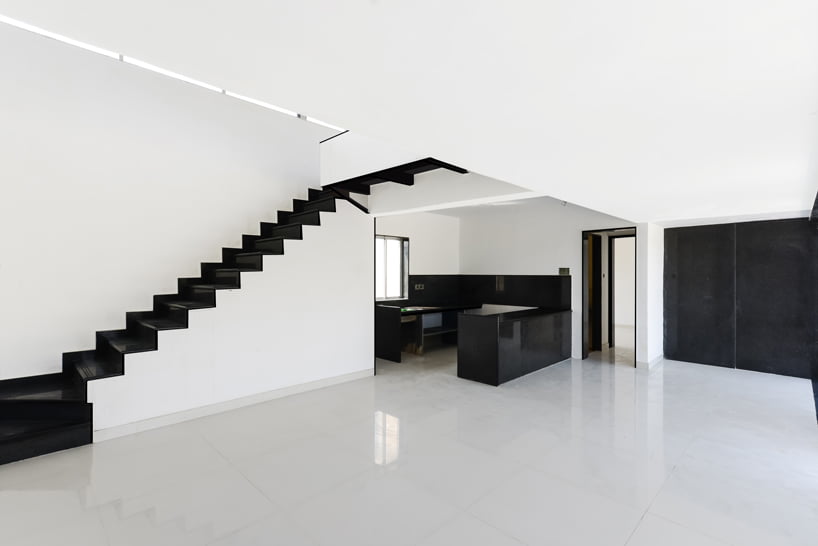 The high contrast finish stands in stark relief to the green countryside but speaks to the modernist architecture as a whole.
Visually, the abundance of white helps magnify light within the space, aiding in NUDES' goal of creating a modern villa design picture unhampered by conventional interior structures.
Few more modern villa design ideas for you.
Find More Modern Villa in Lonavala Photos on Next Page!