Link aadhaar card with property land records: Yaps!!! Recently, Central government of India is publishing a circular to connect your aadhaar number with your immovable assets. Like different types of properties and land records are available after the 1950s. For connecting land records with aadhaar number, the government surveyed lands in today's state and create online archives for that land records. As we know in many states, like Andhra Pradesh, Telangana, Haryana, Uttar Pradesh, Maharashtra, Chhattisgarh, Maharashtra, the respective land revenue departments have already made their records online. The process of linking the land records with Aadhaar is underway in these states. In Andhra Pradesh, all the land records are being linked to Aadhaar numbers of the Pattadars (land owners). But, many people fear the process of how to link aadhaar number with land or property records? And we are here today tried to clear those doubts about e-property passbook and property linking to aadhaar number. So, before going over the process of link aadhaar card with property land records, we are getting some ideas about what is the pro and cons of these facilities?
Link Aadhaar card with property land records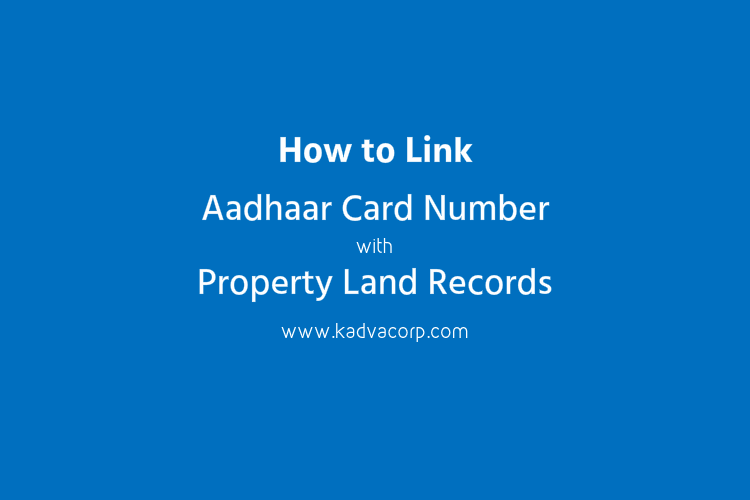 Pro and Cons of linkage of aadhaar number with your properties:
Linking of aadhaar with the land decision will help to identify the actual land owners and prevent fraud in land dealings. So, all the properties and lands related activities like land sales and purchases, rental properties, farming lands and other categories of land-based assets will come under the surveillance of the Aadhar scheme. Also, in the nearest time, the linkage will be beneficial in terms of bank loan provisions and crop insurance for farmers.
Step by step guide for link aadhaar card with property land records:
The department of registration and stamps will begin Aadhar-based biometric verification and it has suggested to the state to start a campaign for people to link their UIDAI cards with property details.
So, at this stage, we need to wait for further steps till this process begins. But, bellow is some basic step to link aadhar with property land records.
Make your aadhaar card. If you have already aadhaar card number available, that's good.
Consent your nearest land record office (Panchayat office, tehsildar, collector, revenue dept. etc,).
Provide your aadhaar details with land and property details.
Cross check twice before final linking.
Verify by the third
Why Govt. link all details with aadhaar card?
All common facilities like birth and death certificates, vehicle licenses, voter cards, ration cards and various utility bills will be covered under the Aadhar-based digitization method. The digitization of land records and other basic schemes will benefit the common man in the long run.
The role of E-Property Pass Book (EPPB):
If the law is implement, you cannot sell or buy any property until you register your properties in the E-Property Pass Book. Another important thing is EPPB will be linked with PAN and Aadhaar online.
The property owners have to personally report with ownership proof to Sub Registrar office where special officers will enter the details of your property in EPPB. Once the property is enter in EPPB, your properties will became yours. There will be a special counter for emergency sellers, buyers, mortgagors where they can do an exchange of properties but only with complete details of properties.
Note: This news has been widely circulate in WhatsApp messages across the country. It has to be ascertain by the public authorities on the credibility of the news.
Know more about link aadhaar card number,
So, friends, this is all for link aadhaar card with property land records. But, stay tuned with us for time to time updates on aadhaar related news and updates.