Teamviewer is one of the Top for Remote Desktop Application. If you want to access someone PC from your Computer, then you can use Teamviewer For Remote Desktop. Teamviewer can save lots of Time. If you are a Developer Web Designer or Software Developer, then you may always require Teamviewer to Show Demo to Client. Teamviewer is Useful for Everyone. If you are Looking for Free Teamviewer Alternative then here are some best List.
Teamviewer is one of the Fastest And More Secure Remote Desktop Application for Computer but if you are facing any Problem or any Downtime on Teamviewer then in this case you required Some other Teamviewer Alternative. There is few good Remote Desktop Software is available for Free.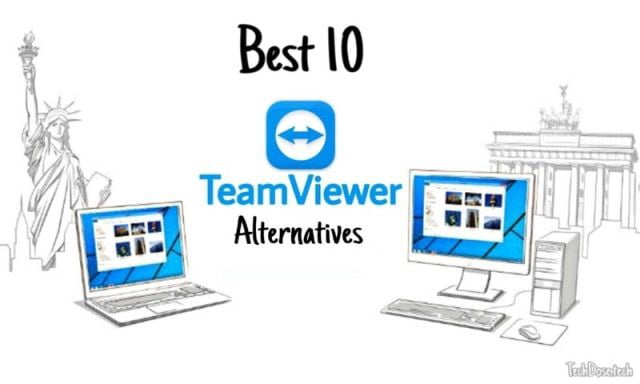 Best Free Teamviewer Alternative:
1. Join.me:
Join.me is one of the Top Teamviewer Alternative. It will allow you to share your screen with other user and the same way you can access screen of any other users. These are one of the best alternatives as you don't have to install any software on your Computer, or you don't even have to register an account with the website.
You can easily access the Screen with the link. You need to Open link in your web-browser and with this link, you can access the other user's computer. Now You can also perform Audio and Video calls using join.me.
2. AnyDesk:
AnyDesk is also one of the real Remote Desktop Software for the Teamviewer Alternative. If you are looking for a light-weight remote desktop software to share your screen or if you want to access someone else screen then now you can use AnyDesk to share the screens.
You need to Download Portable AnyDesk file and same file required by other users. Now Once you have the file, then you can ask for the AnyDek id to access the other computer access. Once you enter Given id, then the user can allow it or done it. Once he Accepts it, then you can see the screen of the user computer. AnyDesk is enabling users to chat option and file sharing option.
3. RealVNC:
RealVNC is another good Teamviewer Alternative for Remote Desktop. This software allows you to access any computer if that computer owner has the RealVNC installed. These are one of the right choices after the Teamviewer.
RealVNC is Supporting Cross Platform, and you can use it on Windows, MAC, Linux, and UNIX computers. You can also use it on Android and Ios Mobile Device. RealVNC is available in two version free and paid, and if you are going for Paid version, then you will be more secure as it has 256-bit AES full session encryption, identity protection using 2048-bit RSA keys.
4. Ammyy Admin:
Ammyy Admin is one of the good options if you are Looking for Free Remote Desktop Software. These are one of the Lightweight software, and it's hardly in 1MB about size so you can help us it easily on your Computer. Ammyy Admin is also offering Chat and File Sharing Options so you can transfer your file and the same time you can also communicate via chat option.
Ammyy Admin is very easy to use; you just have to download small file on your Computer and then you have to run the .exe file. Then you need to enter the other user ID to access the screen. Once you enter the ID, then you are ready to see the shared screen on Your Computer. These are one of the good Teamviewer alternatives.
5. UltraVNC:
UltraVNC is another Good option to access the screen of other users. These are an excellent choice if you are looking for something new. UltraVNC allows you to access quickly to other users screen, make sure you have good internet connection. Speed is somewhat slow, but we have found it useful.
If you want to Work on Any Project With someone, then you can use UltraVNC to collaborate with other users. These will save your valuable time and at the same time your job will be done on time. These are one of the real Teamviewer Alternative.
6. LogMeIn:
LogMeIn is another Good Teamviewer Alternative for Remote Desktop. Using LogMeIn you can access any computer easily and fast. LogMeIn Supporting Multiple Platform and Mobile Devices. If you are Looking for quick and secure Remote Desktop, then you can give a try to LogMeIn.
LogMeIn allows users to send and receive files securely. You required the password to access the Computer, and if you failed to enter the correct password, then it can block your IP, so it's good for the people who are looking for secure remote desktop software.
7. Radmin:
Radmin is Remote Desktop Software that allows you to Access any Computer using the Internet. It's free and offering 30 Days Trail Period to test the software. If you like, then you can Upgrade to Pro Version. Radmin is fast and secure. It's Supporting Windows, Mac, Linux and Unix.
Radmin is More Secure, and it has 256-Bit AES strong encryption, and it randomly generates secret code to access any Computer, so this is one of the Good Feature to Protect your Computer. It's offering Text and Voice chat so you can finish your work easily, these are one of the Good Teamviewer alternatives.
8. Show my PC:
Show my PC is also good Option for Screen Sharing, if you are looking for fast and Secure File Sharing and Screen Sharing Software, then you can use Show my PC. It allows you to share your Desktop Screen with any other users. It's coming in Free and Paid Version.
Show My PC is highly Compatible on Many Operating System version and it's more stable and Secure. You will get text and Voice Communication options to complete your work quickly from anywhere.
9. TightVNC:
TightVNC is Free Remote Desktop Software, With this, you can easily see the screen on other users, and you can work on it using your Keyboard and Mouse. The TightVNC is Supporting Windows and Linux Platform. If you don't Like to spend Your Big Money on Paid Remote Desktop Software then Now you can use TightVNC for Personal and Corporate use, and it's completely free.
10. Chrome Remote Desktop:
Chrome Remote Desktop is another Good Teamviewer Alternative. You can access Any Computer using Your Chrome Browser itself; you Don't have to install any Software on your Computer, this is one of the useful for the many people who don't like to install large software in Computers.
Chrome Remote Desktop is Mute Platform, and it can be work on Windows, MAC and Linux without any problem. It's Free Addons for Google Chrome, and You can install it Right Now. These are also one of the Good TeamViwer Alternative.