The frequency of unknown callers calling on your phone is increasing daily. This is due to the rise of scammers and spammers who want to steal your data, your hard-earned money, or telemarketers trying to waste your valuable time. We can also consider this as a downside of owning a smartphone.
Though your phone's caller ID may show you the unknown number through which you receive the phone call, it does not filter out scam calls for you or identify the person who is calling you. This means that you have to take this matter into your own hand by either taking the chance of receiving the unknown call or figuring out a way to identify the unknown caller before you attend this call.
Here are a few ways to respond and figure out the person's identity when an unknown caller is calling you.
1. Let the Call Go to Voicemail:
Suppose your caller ID displays an unknown phone number when you get a call. Instead of receiving the call, better let it go to voicemail. It is not a clever decision to answer a phone call when you have no idea who is calling you. If someone is legitimately calling you, they will not mind leaving a message on your voicemail. Hence, if the call is important, you will know once you check the voice messages left on your voicemail. You can return back their call on the same number from which they called you. Checking your voicemail can be an easy way to figure out who called you. If a friend or family member uses a new phone, you can always call them back on the same number.
On the other hand, if it is a telemarketer trying to call you to sell something or a scam call, these spammers usually do not leave messages on your voicemail. But by chance, if some of them do, it can get tricky for you to figure out if the call is legitimate. Now it is up to you to determine by analyzing the Voicemail if this is a real person calling you or a fraud call. Once you are sure you have received a call from a scammer, the next best thing to do is block the phone number.
If you do not believe your instincts, switch to the reverse phone lookup site WhoCallMe – the best way to find out who called you.

2. Use A Reverse Number Lookup Service:
To figure out who is calling you from an unknown number, the first thing you may do is Google search for the phone number. A quick search can give you the identification of the unknown caller. But understand that Google is not designed to discover this information of an unknown caller. Hence, the results may not be what you're looking for. On the other hand, a reverse number lookup platform is precisely designed to do this. You need to enter the unknown phone number from which you have received the call in the platform and start searching for information about the unknown caller.
While several premium reverse phone lookup platforms can give you excellent services but can be heavy on your pockets. On the other hand, a lot of free platforms are unreliable. The challenge here is to find out a legitimate reverse phone lookup platform that offers a reliable database that can generate accurate results.
Do not worry; you can use WhoCallMe, a free reverse phone lookup platform that quickly generates the result of your reverse phone number lookup and offers phone number directories with US area codes on its website. That platform provides a solid database that collects information from public directories; hence, it can be called accurate and reliable. It does not just offer the identity of the caller but a comprehensive report about them, such as full name, business, residential address, work address, alternative phone number, acquaintances, and much more.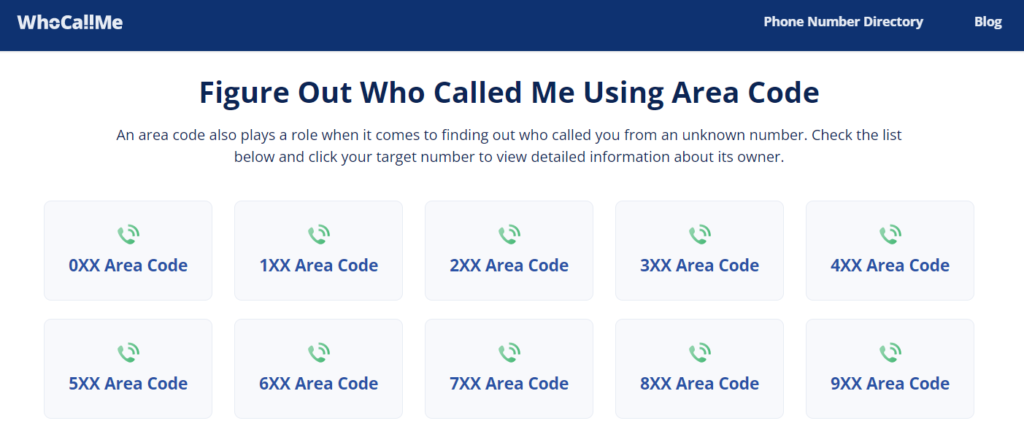 3. Returning Calls
The most direct way of finding out who is calling you from the unknown number is by returning the call to the unknown number. It is the simplest way to figure out information about the caller. But this means that you may be calling back the scammer. When you return a call to the scammer, it only shows them that you are inquisitive, hence more vulnerable to cybercrime.
Scammers who call people around usually have information about their targets already. In fact, many scammers give their potential targets just a missed call to try to tempt them to return the call. Giving them a callback only opens you to the potential risk of theft. 
If you return the call to find out the person on the other side of the line, there is no guarantee that they will be truthful about their identity. In fact, often, when you return the call to an unknown number, you may be connected to a foreign country and then incur the fees of making the international call, which might be really high.
Returning the unknown caller's call is a considerable risk that makes you more vulnerable to theft. It's better to wait for the phone to ring again because if someone is trying to contact you or there is an emergency, they will definitely give you a callback.
This means that next time you receive a call from an unknown number, instead of just taking the chance of picking up the phone call, you better use WhoCallMe to find more information about the unknown caller and If they are legitimate. This way, you will find it easy to decide whether to pick up the call or not. If you find that the call is from a scammer, you can easily block the number to avoid any further trouble.
Conclusion:
Yes, most calls you receive from an unknown number are from a telemarketer or a scammer. But it is also not wise to ignore these calls, as they may be from an acquaintance you already know or someone trying to reach you in an emergency. The best decision in such a scenario is to find out the caller's identity before entertaining or ignoring them. Though we have listed several methods to do this, the best one out there is to use a reverse phone lookup tool such as WhoCallMe, which will identify the unknown caller in just a few minutes that too, free of cost.
Ignoring calls from an unknown number is never the correct answer, as you never know you may miss out on an opportunity.