Gold is a symbol of status in India. There is sentimental value attached to gold. It is also treated as a symbol of wealth and prosperity. Although gold is an integral part of our culture, we gain a lot of advantages that help us financially too. In case of financial emergencies like business expansion, agricultural needs, payment of school fees, medical issues, etc. one can rely upon the gold loan anytime.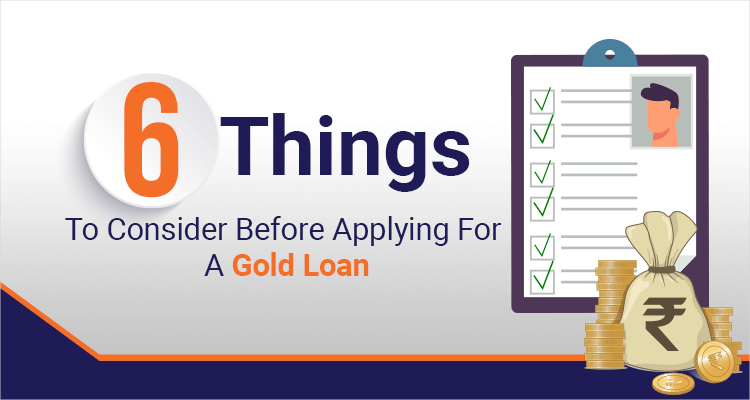 The covid-19 pandemic has brought many financial hardships in the lives of people. People across the world lost their jobs, the unemployment rate was alarmingly high and the mode of survival for many people was through their savings and investments. In such situations, a gold loan which is a secured credit facility extended by banks and financial institutions, lets you pledge your gold jewelry or ornaments in exchange for funds acted as a savior.
Here are some things the applicants should know before applying for a gold loan:
1. Lower Interest Rates
Gold loan is considered secured loans since gold is provided as collateral. therefore banks usually offer lower interest rates on them compared to other secured loans. The interest rates are generally low but it can vary depending upon the lender you select.
2. Quick Processing with Zero Processing Fees
With attractive Gold Loan interest rates and instant approval, the loan against gold is one of the quickest ways to access additional funds to meet your emergencies. One can get access to funds, instantly. Processing fees for gold loan is generally zero or minimal and may vary subject to the term and conditions of different lenders.
3. Flexible Repayment Options
Gold loan is also popular because of its flexible repayment options. In some cases the borrower can pay only interest until the tenure is complete and pay the principal on the date of maturity of the loan. In another repayment option known as "Bullet repayment" the borrower need not worry about repayment during the tenure of the loan. Once the loan reaches maturity, the borrower can pay the interest and the principal together and close the loan account. Karnataka Bank's Gold Loan offers options of Term Repayment, Overdraft and Bullet Repayment. For a general gold loan, Karnataka Bank offers repayment on the due date and servicing of interest on a monthly basis.
4. Need for less documentation
In case of unsecured loans or other loans, banks rely on applicant's credit worthiness to sanction the loan and request multiple documents from the borrower to evaluate the borrower's credit worthiness. But in case of a gold loan, gold is pledged as a collateral before the loan amount is disbursed and thus lenders are assured about recovery of the principal amount even if the borrowers fail to repay the loan amount. Therefore the banks do not rely much on borrower's income or credit history evaluation. This reduces the burden of the borrower to produce documents like income proof etc.
5. Gold Purity
The loan amount sanctioned depends on the purity of the Gold ornaments being pledged. Most lenders only accept gold jewellery with purity ranging between 18 and 24 carat. Some of the lenders also accept gold coins of 24 carats with a purity of 99.99%. Therefore, higher the purity, chances of higher amount being sanctioned are more for a gold loan. Most of the banks require gold to be at least 18 karats pure and the value of any jewels or precious stones placed in the ornaments being pledged may or may not be considered, depending upon the terms and conditions mentioned by the different lenders for sanctioning the loan amount.
6. Gold loan eligibility:
Now checking a gold loan eligibility is just a cakewalk. One can easily check his/her gold loan eligibility by accessing the gold loan calculator present on the bank's portal. In case of emergency, one can plan for the Fast Gold loan to meet personal expenses by simply checking gold loan eligibility.
Conclusion
Financial emergencies can occur to anybody. In such cases, if the individual has not planned their investments or savings for times of need, the situation might worsen. But if they have gold ornaments that they can pledge as collateral, Gold loans can be the best solution that they can opt for. With lesser documents required and quicker sanctions, gold loans have gained popularity during financial emergencies and anybody in need can make the best use of such facilities during difficult financial situations.
It is always recommended to choose a reliable Bank/Lender for your Gold Loan. One should Always rely on a lender who offers attractive interest rates and flexible repayment options while ensuring safe custody of your jewelry. Also, it is advisable to stay informed about their terms and conditions in detail apart from comparing their interest rates to get the best deal.