Using WhatsApp as a Personal Data Storage: We all know WhatsApp messaging app very well because today this messenger app is so popular and installed almost every mobile phone. People are using WhatsApp for sending text messages, photos, videos, documents etc. But, today we are seeing one simple idea to convert your WhatsApp into your personal document store or personal drive. With this simple trick, you can able to use your Whatsapp messenger as a personal drive. That will help you to store your important docs, notes, videos, or any recorded msgs. That is not accessible by others but you can use WhatsApp personal data storage anytime, anywhere. Like, you may able to access WhatsApp personal drive from mobile or Smartphone, desktop (web.whatsapp.com) etc. So, this simple WhatsApp trick makes your Whatsapp messenger app not just for sending and receiving app but act as a personal data store online.
Before going to explain that how to create or convert WhatsApp as a personal store, I recommend you to update your WhatsApp with the latest version. You can find latest today's WhatsApp apk download from here. So, what you can do with WhatsApp:
You can capture and save ideas anytime, notes, voice memos, scanned documents and everything else in your own private storage space that is accessible from everywhere.
We can transfer web links fastest way, documents, screenshots, and other files between your desktop and Smartphone without having to log-in for another service.
Using WhatsApp as a personal store.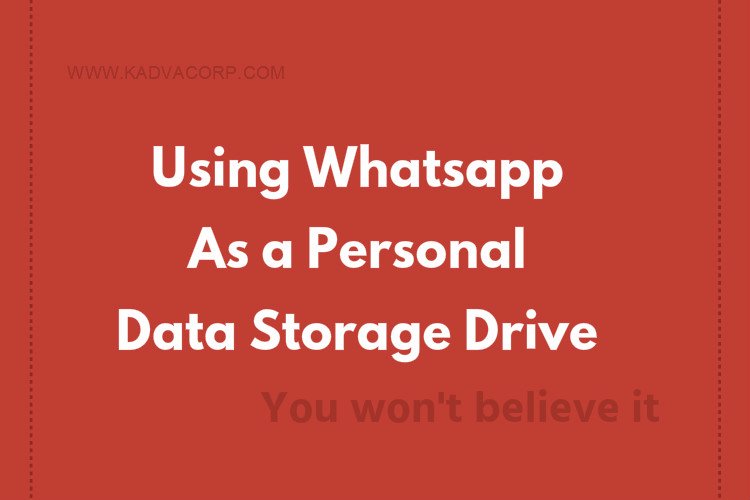 So, let's see, how to use this simple idea in favor of useful routine. For that, you need to create one dummy or virtual contact on WhatsApp and, whatever you want to store privately. You can just share it with this virtual dummy contact. But, as we all know that it is not possible to send WhatsApp messages to your own number but there is a simple hack to solve this situation. Create a new WhatsApp group with just a single participant – You (as a Dummy Contact). How's here:
Go to WhatsApp Messenger on your phone and create a new group.
Add any contact from your address book to this new group.
Give your group a name (Whatsapp Personal Store/Drive) and save.
Now go to the group in WhatsApp, tap the subject to view the list of participants.
Select that participant in this list and remove them from the group.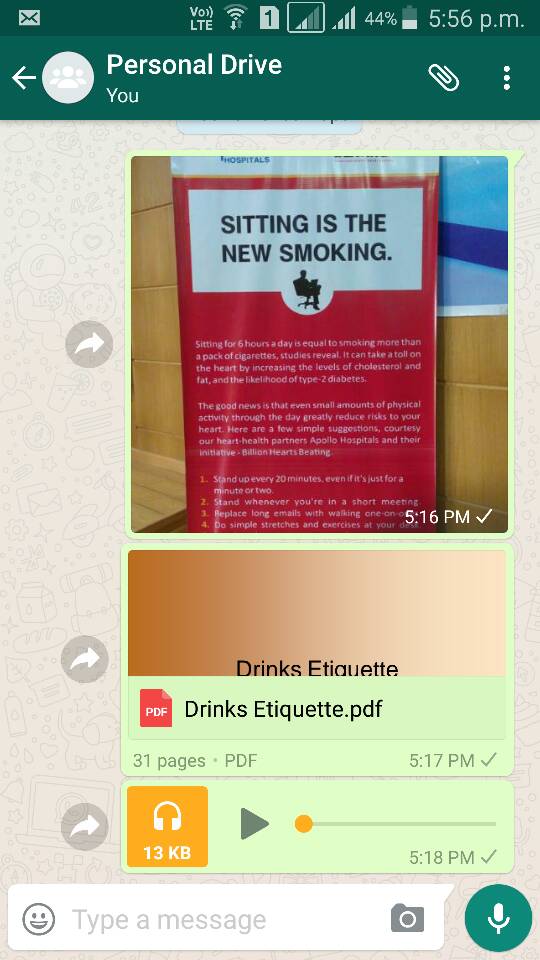 So, this is it! This is your personal WhatsApp data storage drive. This is a private store in WhatsApp that is visible only to you and accessible from the computer (web) and the mobile phone also.
Know more about WhatsApp messenger from our archives:
With this personal WhatsApp drive, you can transfer any document from PC to mobile device. On desktop open web.whatsap.com and send the file to this group that will instantly available on your phone. There is an inbuilt search feature in-app, that will help you to locate your documents easily.