House renovation is both exciting and rewarding, but it is not without its challenges. Our guide is here to help you complete your renovation project successfully. Whether you've to live alone or co-living, these will help you a lot. There are numerous advantages to renovating a home over purchasing a new home or self-building. Perhaps the most exciting benefit of renovating a house is the exciting potential it offers to uncover all manner of charming original features, closely followed by the fact that a renovation project can, if done properly, result in a home with an impressive increase in value.
On the other hand, there are some drawbacks. For starters, renovation opportunities aren't always easy to come by — buyers frequently clamor for them and are willing to pay a premium for a 'blank canvass.'
There is also the risk of purchasing a money pit that drains your funds and causes undue stress, which is avoidable if you know what to look for. And that is exactly what our renovating a house guide is here for: to arm you with the knowledge you need to ensure your project results in the home of your dreams. Also, you should pay attention to every detail and every room. Most people underestimate the kitchen, which is the most important room of the house. Our tip is to always focus first on the kitchen, from wall colors to choosing a custom range hood.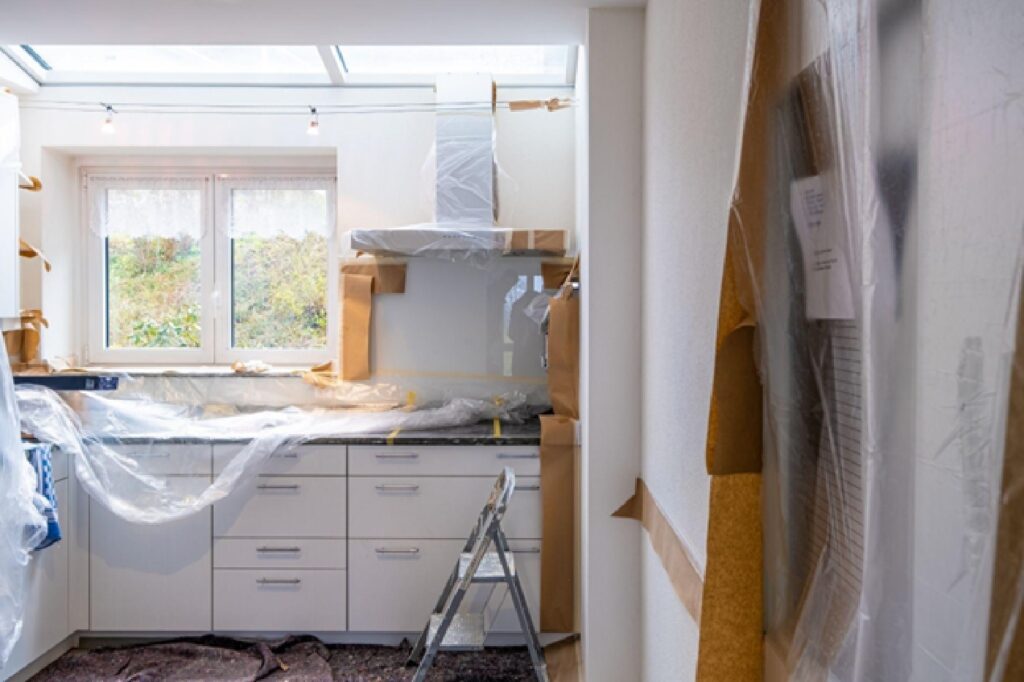 The Ultimate Guide For Renovating a House
We've broken down the stages of a renovation into simple steps, from removing risk from your purchase with the right surveys to dealing with any unexpected and costly issues.
Identify a Renovation Project
Finding and purchasing a house to renovate is frequently one of the most difficult aspects of house renovation. Property in need of modernization is always in high demand, and as a result, it is not uncommon for people to end up paying more than a house is worth to beat the competition, increasing your house renovation costs before you even begin.
Cash buyers are more likely to succeed than those who rely on a traditional mortgage or a renovation mortgage because obtaining a mortgage on a property will require an independent valuation to ensure the house is worth as much as your accepted offer. Despite the fact that properties are selling quickly, it is critical not to rush into anything — checks will need to be made to uncover any issues that could consume your budget.
Fortunately, you don't have to buy blinds, and you can get a good idea of a house's condition even before you buy a renovation project. Properties that require renovation are frequently auctioned or sold using a sealed bid system of best and final offers. Learn how these systems work early on to give yourself the best chance of securing a great deal on a renovation property.
Create a Checklist for Your Renovation Project
Renovation is more akin to restoration in that it involves returning something to its original state in order to reinvigorate and refresh it. Remodeling is essentially the process of changing the layout or extending a building. Not all renovation projects will be suitable for you; some will prove to be too costly, while others will require far too much effort.
When evaluating a home for renovation, it is critical to understand its potential — and this is where a renovation checklist can help. When looking at houses, ask yourself the following questions:
– Is there room to expand, whether by a rear or side extension or by converting a loft, basement, or garage?
– Is the house in the right neighborhood for you?
– What are the area's house price ceilings? Will your renovations increase the property's value?
Create a Comprehensive Budgeting Strategy
This is a critical stage if you want to renovate on a budget. Before purchasing a property to renovate, you should be aware that, in addition to the usual house renovation costs, there are some additional fees to consider, such as:
– Reconnection fees: A water supply connection or reconnection may be required. If there was one, it could have been broken. If you intend to stay on-site, electricity will also be required for power tools and day-to-day living.
– Assessment fees – Council tax
– Professional fees: Include in your budget planning permission and Building Regulations approval, a variety of surveys, structural engineer reports, and any other professional fees (e.g., tree surveys).
– Contingency fund: Make sure you have some extra cash on hand in case something unexpected happens (and when renovating a house, it is absolutely to be expected)
– Legal fees: A solicitor or conveyancer will cost between £500 and £2,000 to act on your behalf.
Determine Which Surveys Are Required
Any potential issues will be identified early with the right building survey. If the homeowner agrees, a survey can be scheduled before making an offer on the property, but this is usually done after an offer has been accepted.
A building survey should highlight any areas of concern and provide you with an estimate of the cost of any necessary repairs. Based on the findings, you will be able to decide whether to proceed with the transaction or whether you may be able to barter money off the property. A chartered surveyor will advise on additional investigations if they suspect or detect: Subsidence, Infestation, and Damp Drainage Issues.
A building report should reveal the construction methods used in the home (sometimes these vary if the house has been extended over the years). This information can then be used to ensure that any new materials or techniques used during the house renovation are appropriate. Remember that most structural problems have a solution. While these may indicate that you need to increase your budget, identifying them early on will allow you to better plan for this. You should also consider how structural issues, such as subsidence, may affect your insurance options and eventual resale value.
Aim to identify any structural issues with the property as early in the project as possible — they are not only dangerous, but they may cause additional damage. Subsidence, underpinning, or piling work to existing foundations can be especially problematic. Steel ties may be required if lateral spread has occurred in the walls and roof. In some cases, steel props, beams, or scaffolds can be used to prevent further collapse.
A measured building survey will provide you with a precise scale drawing of the existing building's layout. These are frequently required when submitting a planning permission application for something like an extension. Consider a drainage survey, which provides peace of mind about a property's drainage system and is relatively inexpensive, especially when compared to the cost of repairing any drainage problems that are discovered after you've already purchased the property.
Obtain Renovation Insurance
When you sign a contract for a renovation project, you become responsible for the site and must have the appropriate insurance in place. Renovation insurance protects your property while construction is underway. It is also known as building work insurance, building renovation insurance, and house refurbishment insurance.
If you take out a mortgage to fund the project, your lender may not release any funds until you have your warranty and proof of insurance in place, and if you have issues with the property such as flooding, theft, or fire, this is usually based on standard home insurance. If you don't notify your insurer when you're doing major renovations, your standard policy may be voided.
Insurance should cover public and employer liability, building materials and works, plant, tools, temporary buildings, the existing structure, personal accident cover, and legal expenses when renovating a home. Depending on the project, typical costs range from £500 to £1,500.
Determine Whether You Require a Home Warranty
While house warranties are not always required when remodeling a home, they can be beneficial. A warranty is a policy that protects your home from flaws in its design, materials, or construction quality, as well as any problems that arise as a result of these flaws. They typically last about ten years.
If you want to get a warranty on your project, get in early because premiums are likely to rise as the project progresses.
Determine Your Eligibility for a Renovation Grant
It pays (quite literally) to check whether you are eligible for any grants that may apply to the house renovation work you are carrying out when organizing funding for your renovation. Before you begin working, you must apply for grants. Check with your local council, as well as the Central Government through National Heritage.